Have you purchased a license for UserFeedback that allows you to use extra addons? It's a quick and simple process to install and activate addons after you have installed the UserFeedback plugin. This guide will walk you through the whole process step-by-step.
Note: UserFeedback addons are only compatible with UserFeedback Pro. If you have UserFeedback  Lite installed, you will need to install UserFeedback Pro.
Prerequisites: You've entered your UserFeedback license key into the UserFeedback  Plugin on your WordPress website and activated the plugin.
Step 1: Log in to your WordPress website's admin area.
Step 2: While on your WordPress dashboard, click on UserFeedback followed by Addons.
Step 3: Click on the Install button to install that addon you have chosen.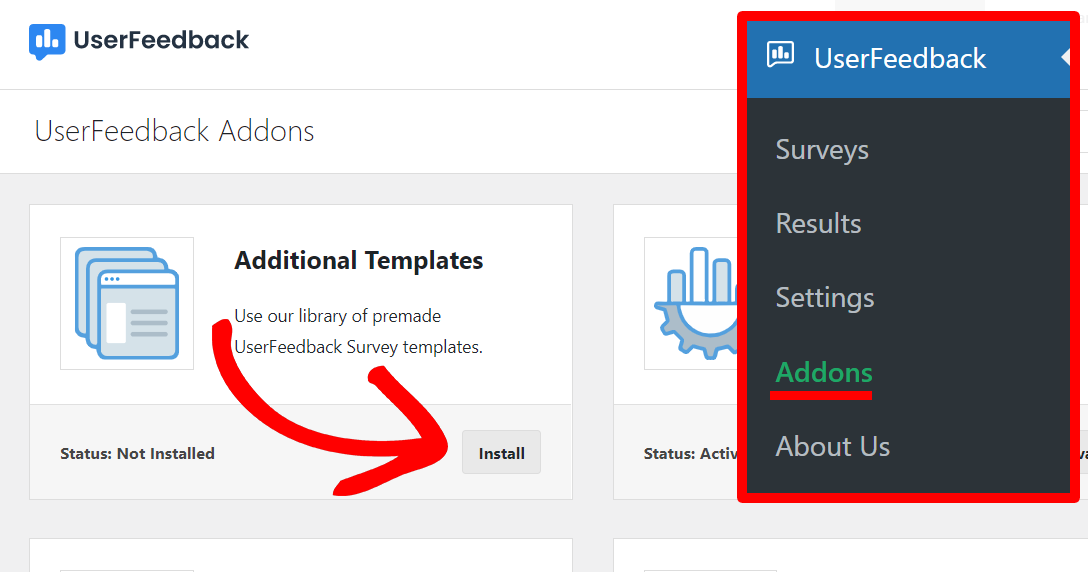 The addon will be automatically activated. If you find that it hasn't started, you can click on the Activate button under the plugin name.
Alternatively, you can also download the addon files from the My Account section of the UserFeedback site, you can then follow our guide for installing a plugin.
Note: On WordPress multisite websites, you can network install, activate, and deactivate UserFeedback Addons from the UserFeedback Network panel.