Thank you for using UserFeedback Lite – the free version of UserFeedback! We are super happy that you've made the move to upgrade to UserFeedback Pro. Upgrading will give you access to more of our features and the ability to use our included addons. In this article, we will show you the steps needed to upgrade from the Lite version of our plugin to UserFeedback Pro – a paid license.
Step 1: Purchase UserFeedback Pro
If you have already purchased UserFeedback then you can skip this step!
Firstly, navigate to UserFeedback, select a subscription and purchase a Plus or Pro package. To do that, just head over to the Pricing Page and follow the steps from there.
Step 2: In your UserFeedback Account page, Copy your license key

Copy your license key from your account.
Step 3: Insert your license key into UserFeedback Lite
Next, log in to your WordPress website admin area and navigate to UserFeedback » Settings.
Once on the settings page, under the heading License Key, insert your license key as shown below then click the Connect button:
Please note: If you run into issues upgrading using this automatic process, please take a look at our manual upgrade process, found here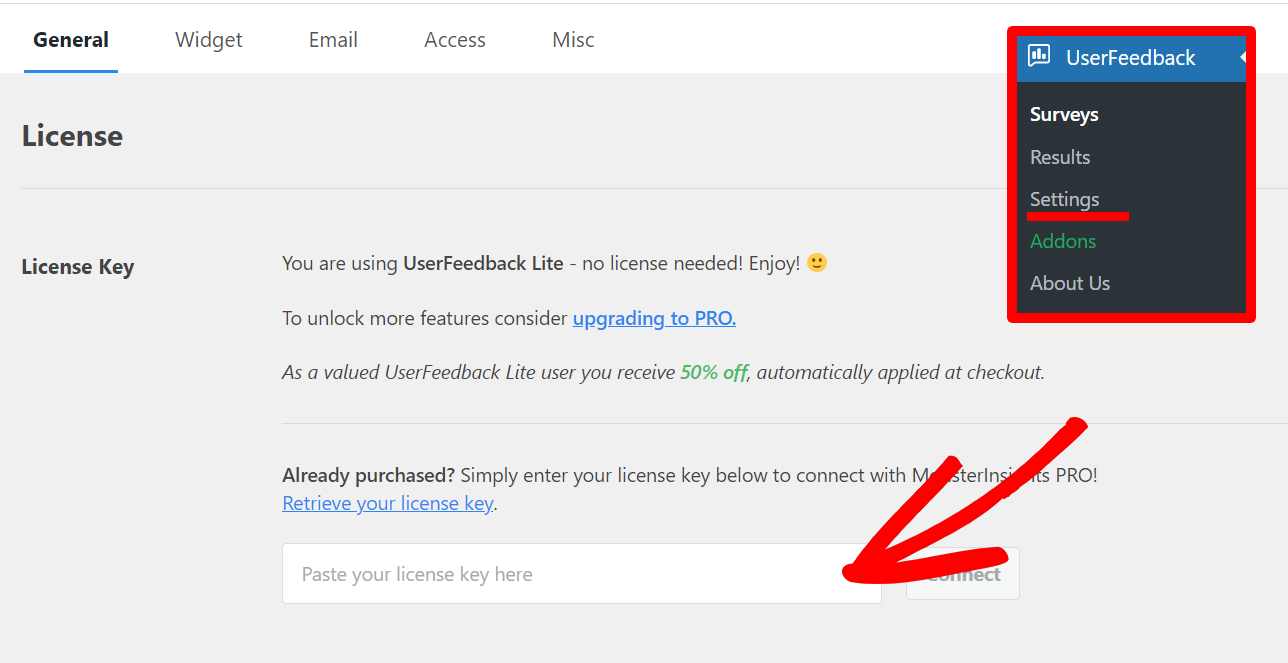 Step 4: Click "Connect and Install UserFeedback Pro"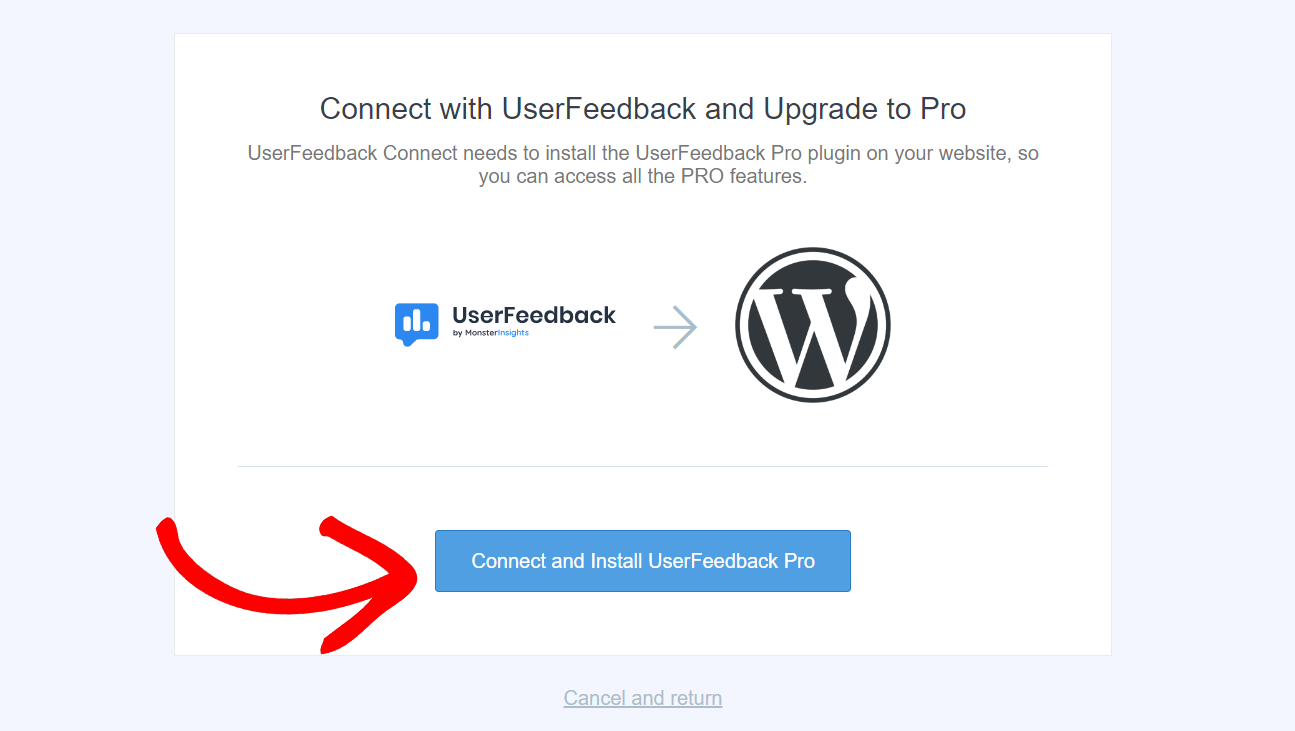 Step 5: Click "OK"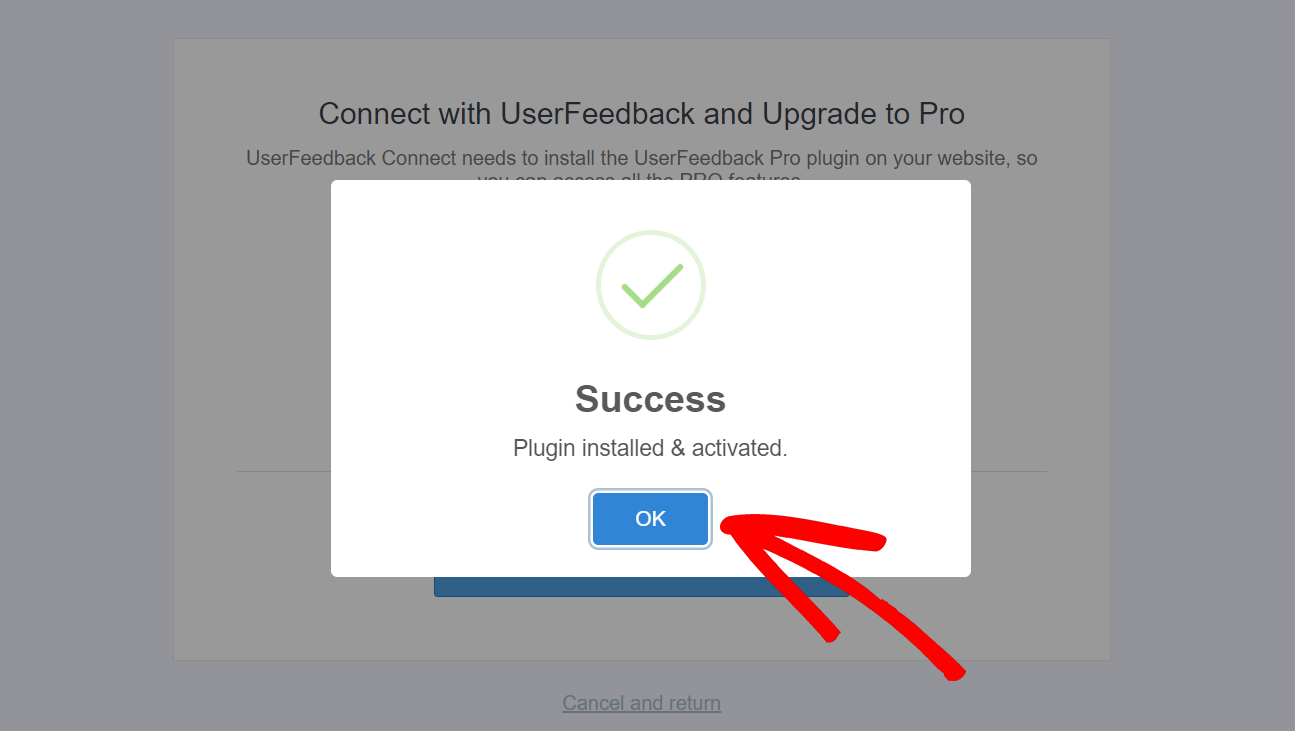 Step 6: You're done!
Congratulations, you have upgraded from the Lite version of UserFeedback to UserFeedback Pro!
You can now make and publish a survey on your site.
---
Option B: Manual Installation
If needed, you can follow our manual installation guide below:
Step 1: Deactivate UserFeedback Lite
If you have UserFeedback Lite installed, it will need to be deactivated.
Log into your website and head into Plugins » Installed Plugins. Click Deactivate for UserFeedback Lite.
The page will reload, and you'll see the plugin deactivated.
Step 2: Download UserFeedback Pro
Once you've purchased an UserFeedback Pro license, you'll be able to download a copy of UserFeedback Pro from your My Account page.
Under the Downloads tab, find and click Download for the UserFeedback Pro plugin.
Step 3: Install and Activate UserFeedback Pro
Now that you have the UserFeedback Pro zip, you can install and activate UserFeedback on your WordPress website like a regular plugin.
Step 4: Delete the Lite version
With UserFeedback Pro installed and activated, you can Delete the lite version from your website.
Verify that UserFeedback Pro is activated before deleting the lite version to avoid losing any surveys or survey results.
You did it! You've manually upgraded from UserFeedback Lite to UserFeedback Pro.
Next Steps:
Now that you've got UserFeedback Pro up and running, you can see our guide on How to Create a Survey